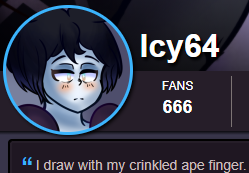 I'm FuCkIn ScArEd DuDe... SpOoKy ShItS GoNnA hApPeN.
I never much cared about followers all too much thats why I picked something dumb to make a news post about. I never got the appeal of having a big number because big number is good mainly because bigger number doesnt mean better art , bigger number doesnt mean i get commissioned. Bug number never really appealed to me
But, I do want to thank anyone who has followed me, my main goal originally on newgrounds was to improve my art and the people who follow help more people see my art and the more people who see it the more feedback I get The better my art gets and the better My art gets the more followers I get and it just loops from there
I really fell in love with newgrounds and this community and I cant say that about any other website I have been on online. I dont feel afraid to upload something I know is bad because people seem to understand that i'm trying to improve and many people has helped me improve whether it be leaving a review or allowing me to help out on there projects like Newgrounds arcade and @larrynachos being the first one and helped me out a lot with improving my art further and @luckydee helping me out with the voices for my summer jam entry. Events like the summer jam helped a lot too with the summer jam turning into my anime training arc for animation.
after a year on newgrounds I can safety say newgrounds is my favorite site (The site I use to pirate anime being a close second)